Web3
Head

quarters
Omnichain
DeFi Protocols
Asset Swappers
NFT Marketplaces
Gaming
Oracle Services
Decentralized Identity
Supply Chain Management
Voting and Governance
Social Networks
Content Sharing
Healthcare Records
Prediction Markets
Identity Verification
Insurance Platforms
Remittance Services
Tokenization Platforms
Non-Profit Fundraising
IoT Integration
Energy Trading
Educational Dapps
Dojima Network is an omnichain Layer 1 - a platform that seamlessly integrates the entire Web3 ecosystem onto one unified layer, empowering developers to craft groundbreaking applications.
Backed BY
the best
3 simple steps to conquer web3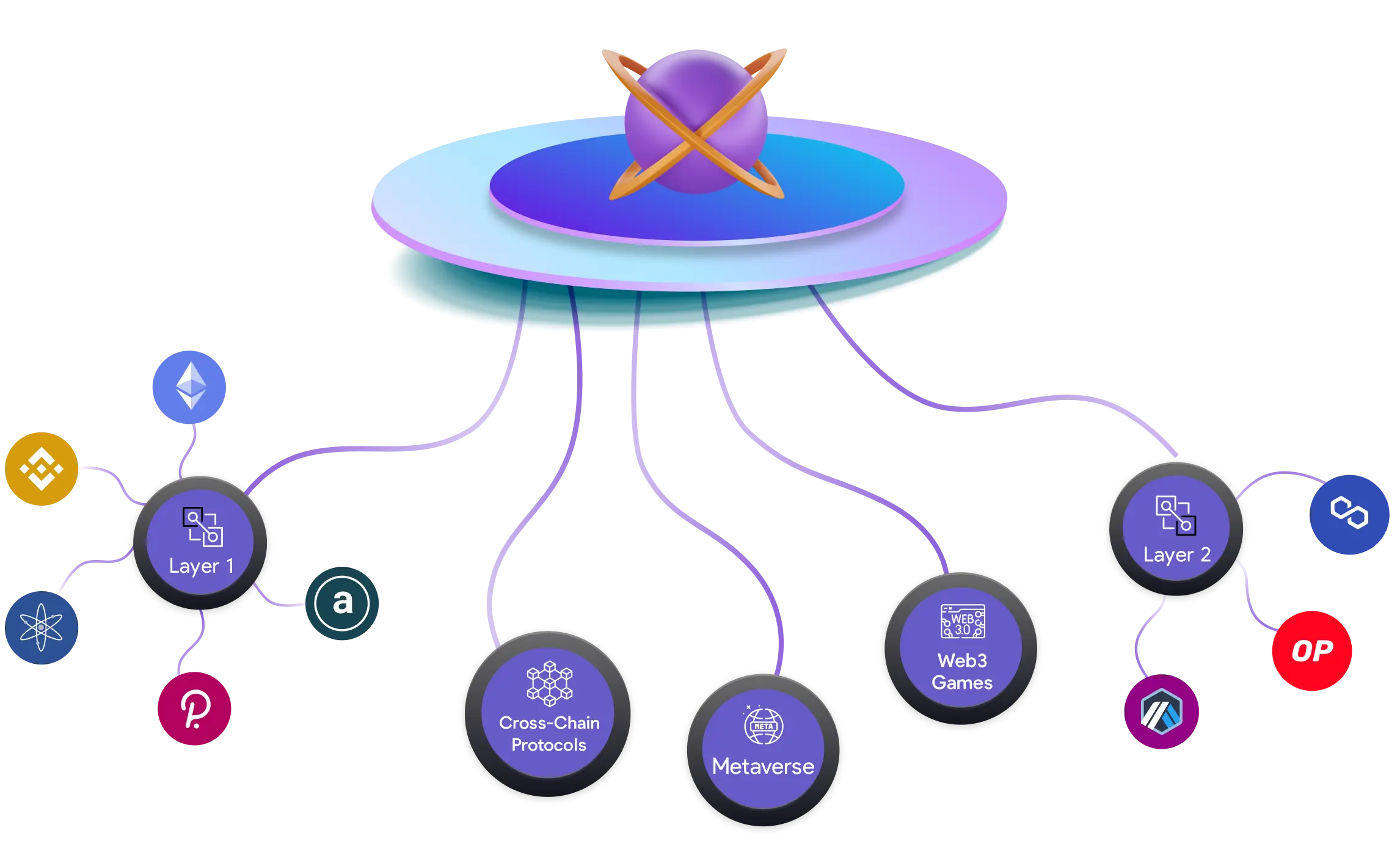 Seamless Deployment
Start on One Layer, Expand Across Blockchains Effortlessly Whether you're launching a decentralized application, a token, or a groundbreaking smart contract solution, our platform empowers you to start on one layer and seamlessly expand to other blockchain networks.
Join the innovators who trust us to break down the barriers of blockchain development and realize the full potential of their projects.
Your complete crosschain stack
TESTNET
Omnichain Layer
omnichain layer is the foundational framework in the blockchain and cryptocurrency space designed to address the challenges of interoperability and connectivity between multiple blockchain networks. It serves as an intermediary or middle-ground layer, connecting various Layer 1 and Layer 2 blockchains within the broader blockchain ecosystem.
Explore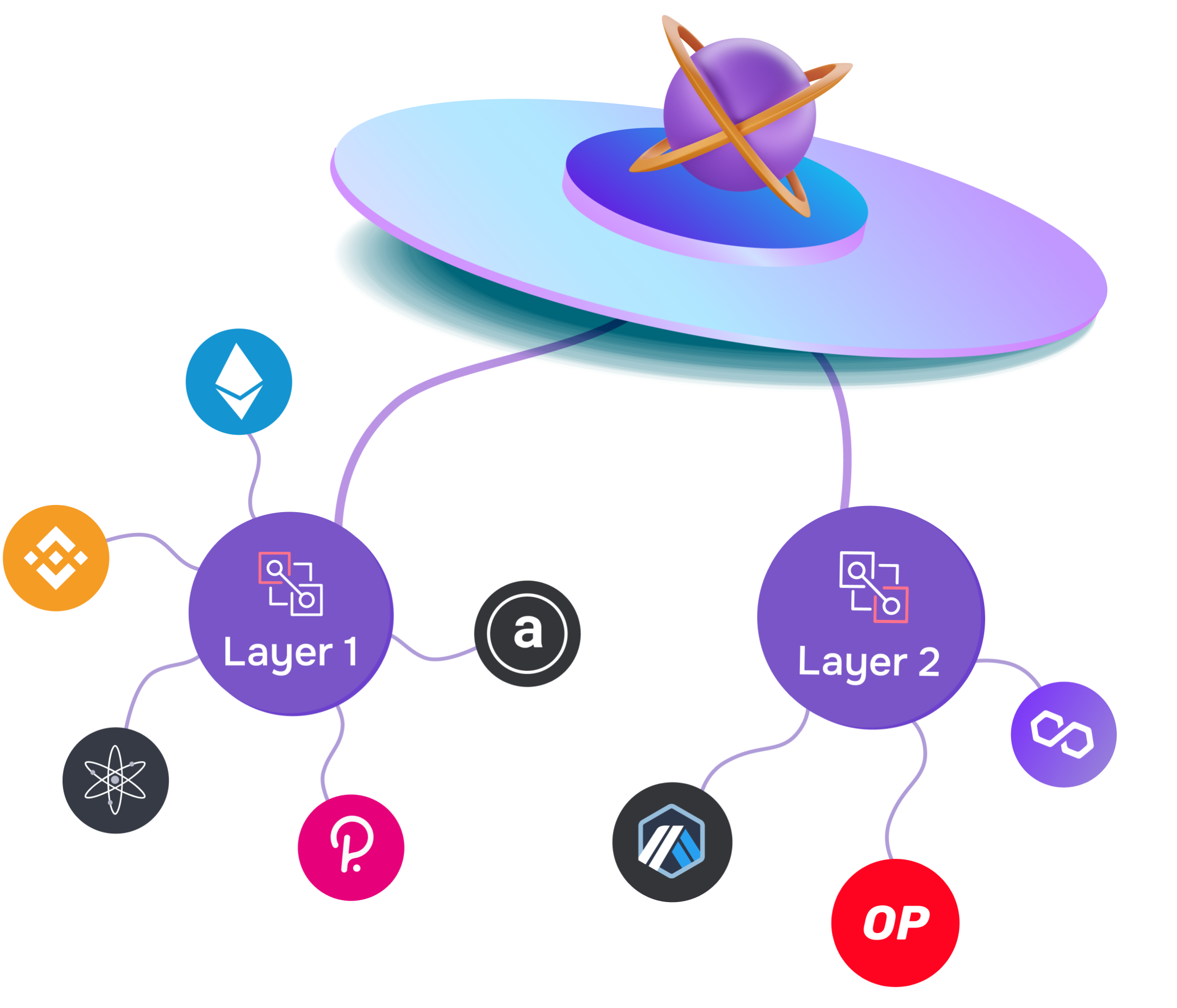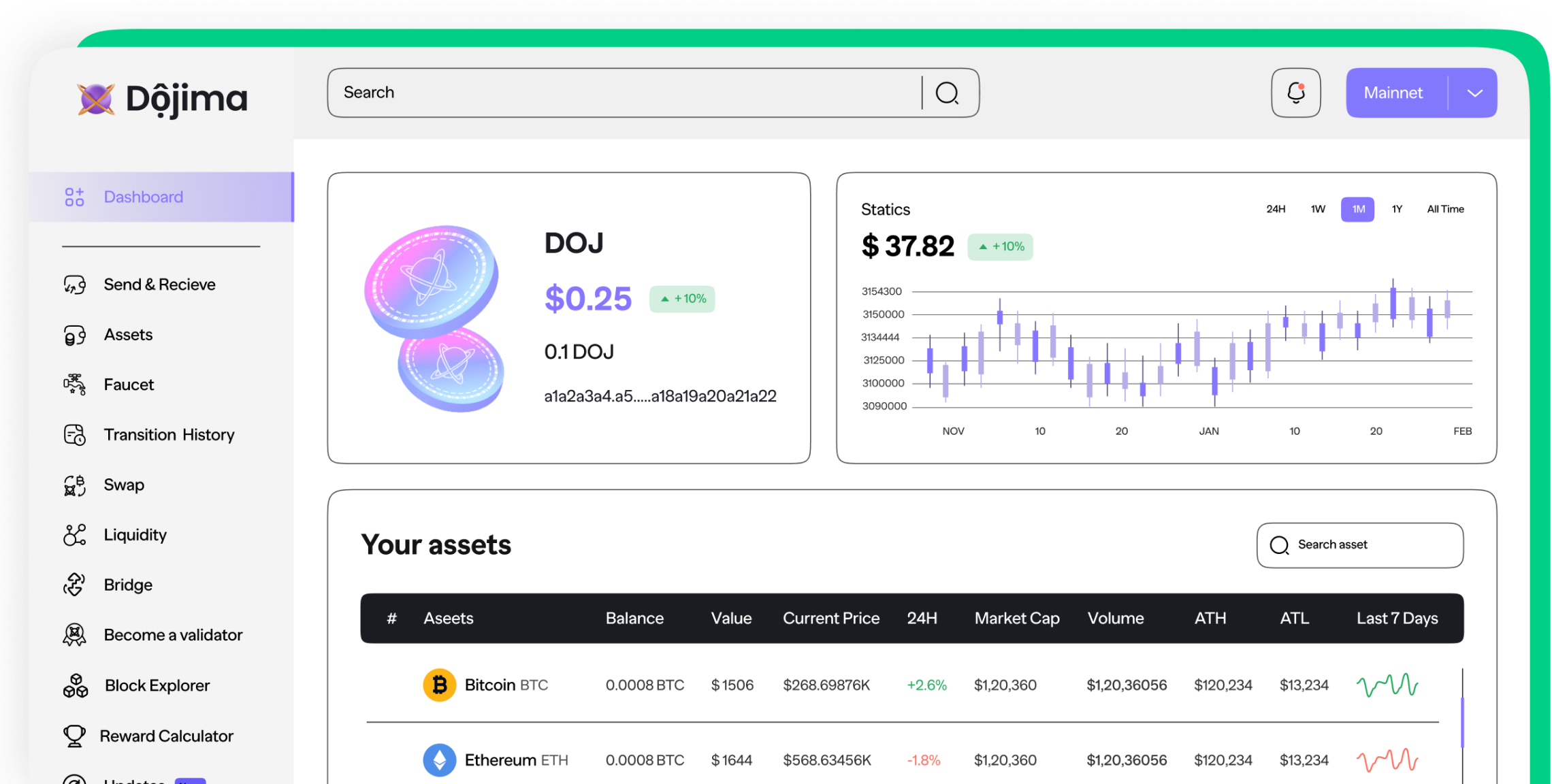 Dojima Chain Dashboard
Dojima Chain dashboard provides users with a comprehensive interface to monitor and manage various aspects of the Dojima Chain blockchain network. It offers real-time data, analytics, and control over different features, making it a powerful tool for blockchain enthusiasts, developers, and network participants.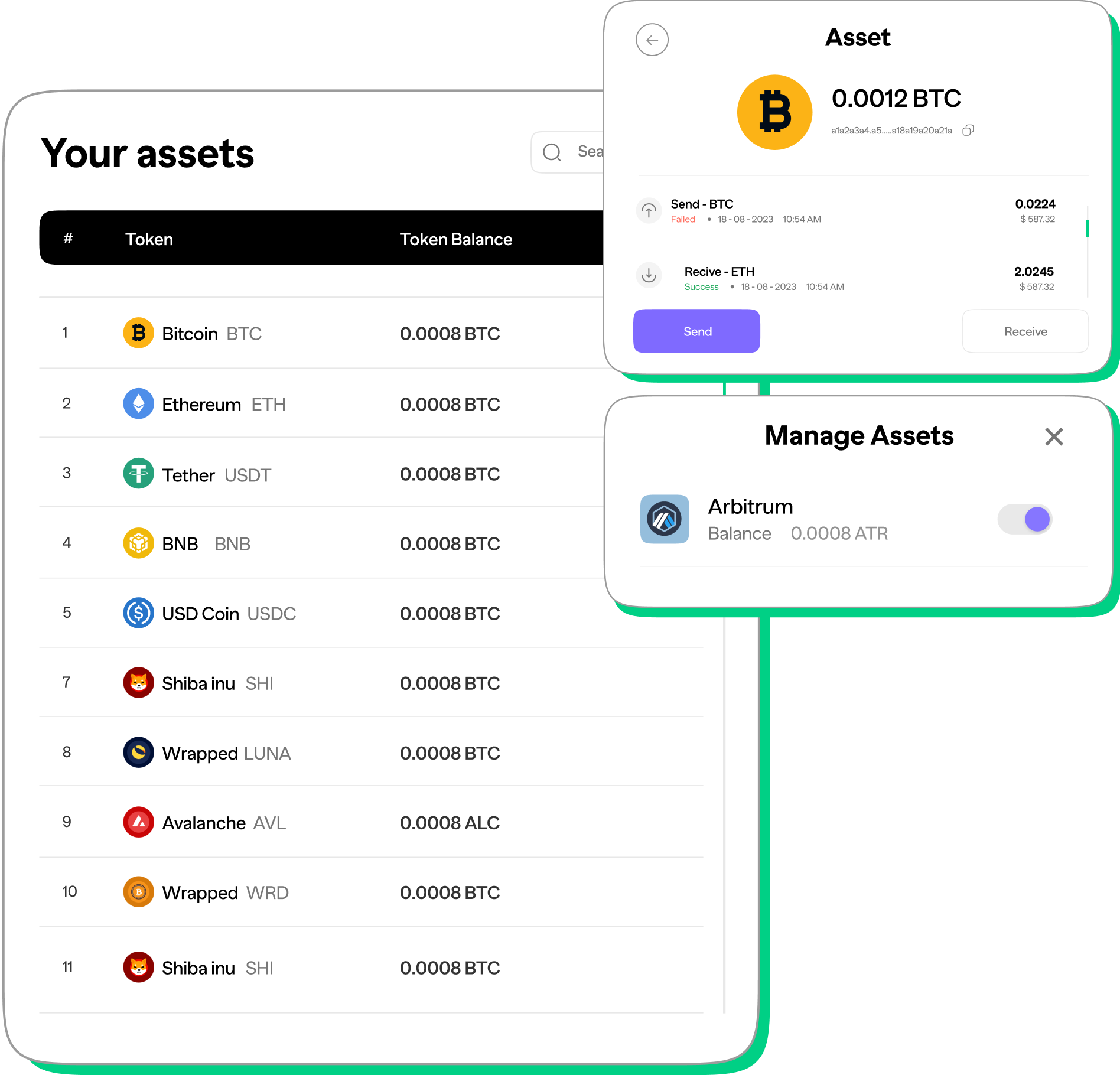 TESTNET
Cross Chain Block Explorer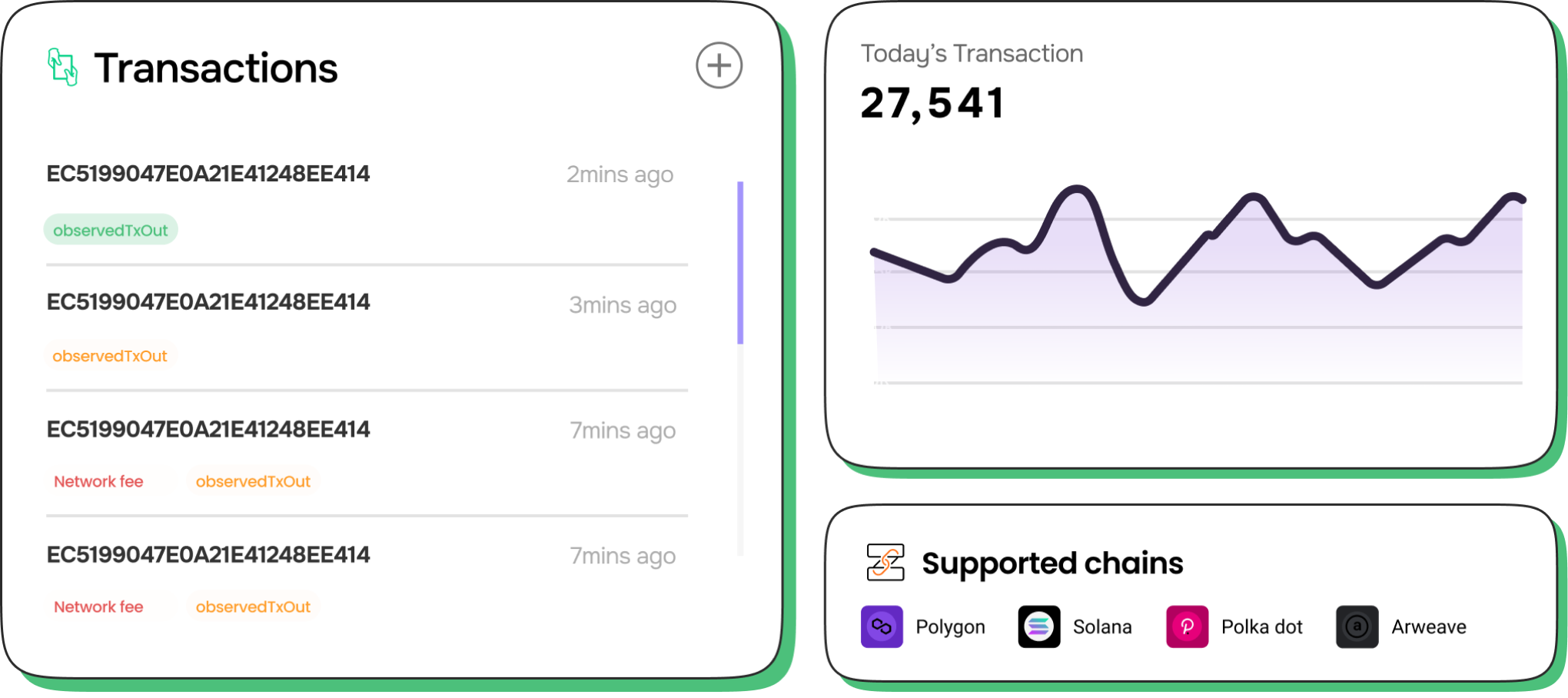 Resources
more information

Join Community
Developer Resources
Secure the network
Join The Ecosystem
starts here
Join our vibrant community today.
Become part of twitter or telegram or discord, that supports in each phase of development.
Join Community
Resources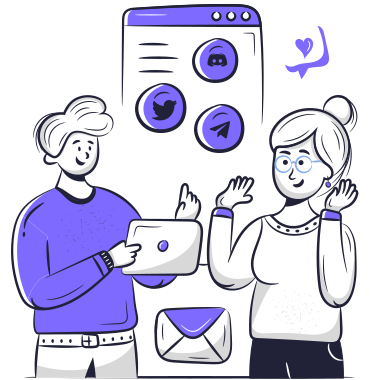 Frequently Asked Questions
Below is a list of frequently asked questions and answers from partners and Dojima. Please check this FAQ first before contacting us.
1. Can you give a brief introduction to Dojima Network?

Dojima Network is creating an omnichain layer to bring the whole web3 ecosystem onto one common layer.

It serves as a cross-chain hub, connecting various chains (both EVM and Non-EVM), pooling assets and data, and enabling the deployment of complex cross-chain applications.

2. What problem is Dojima Network solving?

3. What are the main features of Dojima Network, and what sets it apart from other projects in the market?

4. How does Dojima Network access liquidity from other blockchains?

5. If it's liquidity from dApps on various chains, how are they combined and used cross-chain?

6. How can users exchange native tokens such as Atom and SOL to use GMX on Arbitrum within the Dojima Network?

7. How does Dojima Network maintain decentralization while connecting multiple blockchains?

8. What security measures are in place to protect pooled assets from breaches or attacks?

9. How does Dojima Network ensure that the security of one chain doesn't compromise others in the network?